Tilt & Turn French Doors
The Tilt & Turn French Door is one of Euro Tech's stylish doors that can be manufactured to your specific requirements while maintaining its security and durability standards. 
Most French doors are double doors hung in one frame that open in the middle but they are also available as single French doors.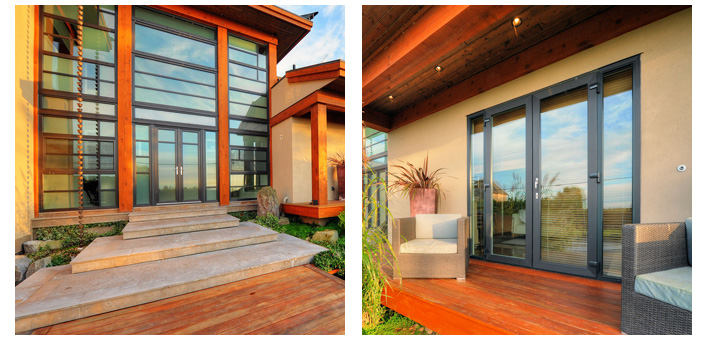 Door Positions
Using the tilt and turn French doors involve 3 position operations – locking when closed, turning to open and tilting. All three functions are carried using only the door's handle.
Turn – Turn the door at its turn position to allow full ventilation and easy access to and from the area.
Euro Tech's tilt and turn French doors can be opened in two ways – with only one panel of the door opened with the other side remaining closed and securely locked. Or, both doors are opened up to 180 degrees to have the full effect of a French Door, allowing the maximum amount of fresh air into the area. If you don't want to fully open the door, restrictors for both doors will control the opening angle you choose. 
Tilt – The door at its tilt position allows continued ventilation without compromising security because the door's bottom side is firmly locked. Fresh air passes through the side opening while hot air in the room may exit at the top part opening. The tilt function allows gentle air movement for minimum ventilation while keeping the area off limits to outsiders, 
Closed – When the tilt and turn French door is in a closed position, three locking points per panel or a total of six locking points will ensure the utmost security against intruders as well as an airtight fit of the triple weather stripping system.
Other Features
Each door has a latch, 4 roller-cam locks and deadbolt  Except for the deadbolt which has a key, the durable door is secured with a locking mechanism operated using the door handle.
Euro Tech Tilt & Turn French doors are available in two, three or four panel configurations. You can choose whether to have two or three window glazing for energy efficiency as well as to reduce sound.
Available sizes are up to 8 feet in height and 16 feet in width.
Sliding screens for privacy as well as retractable flat screen to keep the area free of insects and airborne debris from outside even if the door is wide open.
ENERGY STAR rating which translates to savings in energy costs as well as the environment.
There are many designs that will complement the design of your house or building.
Maintenance-free doors because they do not warp or sag. They also don't need repainting and polishing after years of use.
So, for sleek-looking doors that will help you achieve good ventilation, comfortable room temperature and security, think of Euro Tech doors. For easy and secure access to your garden, choose Euro Tech Tilt and Turn French doors.
Euro-Tech French Door Video
Tilt And Turn Security Windows By Trocal Euro Tech Windows
Tilt And Turn Sustainability By Trocal Euro Tech Windows EcoTech
Tilt And Turn Windows Sound Insulation Trocal Euro Tech Windows
Energy Saving Tilt And Turn Windows Euro Tech Windows By Trocal
Tilt And Turn PVC U Euro Tech Windows By Trocal
Tilt And Turn Windows Modernisation Euro Tech Windows By Trocal
Tilt And Turn Indoor Climate Euro Tech Windows by Trocal
Testimonials
I am proud to recommend Euro-Tech Windows. I am a research Engineer for a majour Canadian company. I researched energy efficient windows for the better part of 10 months before selecting Euro-Tech as 'by far' the most energy efficient windows available. I selected triple pane windows with solar glass which would give me both cold & heat protection. My home was uncomfortable with it's temperature differences from room to room and it was expensive to heat due to the hill top location of the home. Euro-Tech triple pane windows gave me exactly what I expected from a quality product, comfort!

Ken A, Enniskillen

It is not easy for me to write these comments about my window purchases. I had a quote from Euro-Tech Windows in 2008. While the quote process was very informative and educational, I selected another company because the price was about 10% less than Euro-Tech. I have to admit that I did not heed the advice of the Euro-Tech consultant and check out the quality of all quotes on the government web site, I shopped solely on price. Now here it is two years later and I have called Euro-Tech to come out and to take out my two year old windows. I had made a very expensive mistake, my cheaper replacement windows were colder and far noisier than my 30 year old windows. I purchased new windows from Euro-Tech, this time I followed the consultants advise and upgraded to triple pane windows. They are exactly what I thought I would have had from the cheaper company; much warmer in the winter, cooler in the direct sun of the summer and FAR quieter due to triple pane technology. Yes, I bought windows twice in a two year period, but I am far happier having spent that little extra to get a great deal more.

Allan S, Oshawa

I am a full-time LEED engineer, I recommend the best ways to save energy to building designers & engineers. I searched the internet for the most energy efficient windows available anywhere when I was planning to change my second home into an energy efficient showplace. After comparing all the available energy efficient windows I selected EURO-TECH WINDOWS as having all the features I sought. The consultant was knowledgeable and helped in selecting options that were best for my location. I will be recommending Euro-Tech Windows to professionals & homeowners alike as outstanding value for the cost.

David W, Peterborough

I recently had my windows replaced by Euro-Tech windows. Your window consultant was extremely helpful and taught me what to look for when purchasing windows. I had other companies give me quotes and I checked the quality they offered. The comparison was definitely in Euro-Tech's favour. I am retired and consider myself very frugal. Having to pay a bit more for top quality windows was by far the right decision as I did not want to have to replace lower quality windows again in 5 to 8 years. The high efficiency Euro-Tech windows will give me the comfort level I want. I was impressed by the energy savings, explained to me by your sales representative. The installers were very professional and did a fast and efficient job. When they were finished, my home was left in pristine condition, cleaned up with no mess left, just as it was when they started. I thank you Euro-Tech for the high quality windows and the fast and professional installation you did for me. I had Euro-Tech back a few months later to install more windows.

Bill R. Courtice

"We were very pleased & satisfied with both the sales representative and the installers. The Installers worked very hard & seem to very proud of their accomplishments. Congratulations on a job well done."

Emanuele N – Ancaster

"We are very pleased with the windows and patio door. The installer was very professional and did an excellent job. Would highly recommend Euro-Tech windows to friends and family."

Gerard L – Burlington

"Very happy with the installers & they very prompt – showed up on time – Windows are wonderful – a big difference in heating costs – I have even recommended you to other people."

Joanne R., Whitby